Third Congress of the Society for Theory of Music
Society for Theory of Music
Moscow P. I. Tchaikovsky Conservatory
Third Congress of the Society for Theory of Music
REVOLUTIONS IN THE HISTORY OF THE MUSIC CULTURE
Dedicated to the Centennial of the Russian Revolution of 1917
International Scholarly Congress
Moscow (Russia)
25–29 September, 2017
It is well known that the events of the year 1917 in Russia have made the strongest and most ambivalent impact on the course of history of both our country and the whole world. The goal of this scholarly congress is an attempt to comprehend an entire spectrum of the influences of the revolutionary events during both the year 1917 and the following history of the Soviet Union. At the same time, this is far from being the only revolutionary year that caused major social upheavals in history, and it is them that always bring both new worldviews and new languages of art into being. In consideration of this approach, the main topics (and sections) of the congress are to be as follows:
– Social Revolutions and Music Culture: the Musicians and the Power;
– The Options of Mutual Relations between Social and Artistic Revolutions;
– Scholarly Revolutions in Music Theory;
– Special section dedicated to the 85th anniversary of Yuri Kholopov;
– Russia's Musical Avant-garde of the 1920s both in and outside the USSR;
– The Fate of Russia's Musical Art during the Soviet Period: the Forgotten Names;
– The Cultures of the Peoples of the USSR and Their Development;
– On the Questions of "Socialist Realism" in Music and of Its Heritage;
– The Musical Avant-garde of the Late Soviet Period and Its Future;
– Is Postmodernism in Music a Kind of Revolution or a Kind of Anarchy?
– The Stylistic Cataclysms: Simplicity and Complexity Today and in the Past;
– The Scientific and Technological Revolution in Music: Avant-garde experiments with Sound in Russia and Abroad during a Period between the 1920s and the 2010s.
Both the Thirty-fifth General Assembly of the International Confederation of Electroacoustic Music (CIME / ICEM) and the festival, in whose frameworks performances of the representatives of the confederation will be held, — together with the concerts of the three Scholarly and Art Centers: (1) of Interdisciplinary Researches of Musical Art, (2) of Electroacoustic Music, and (3) of Contemporary Music, — will be timed to the work of the last section.
MAP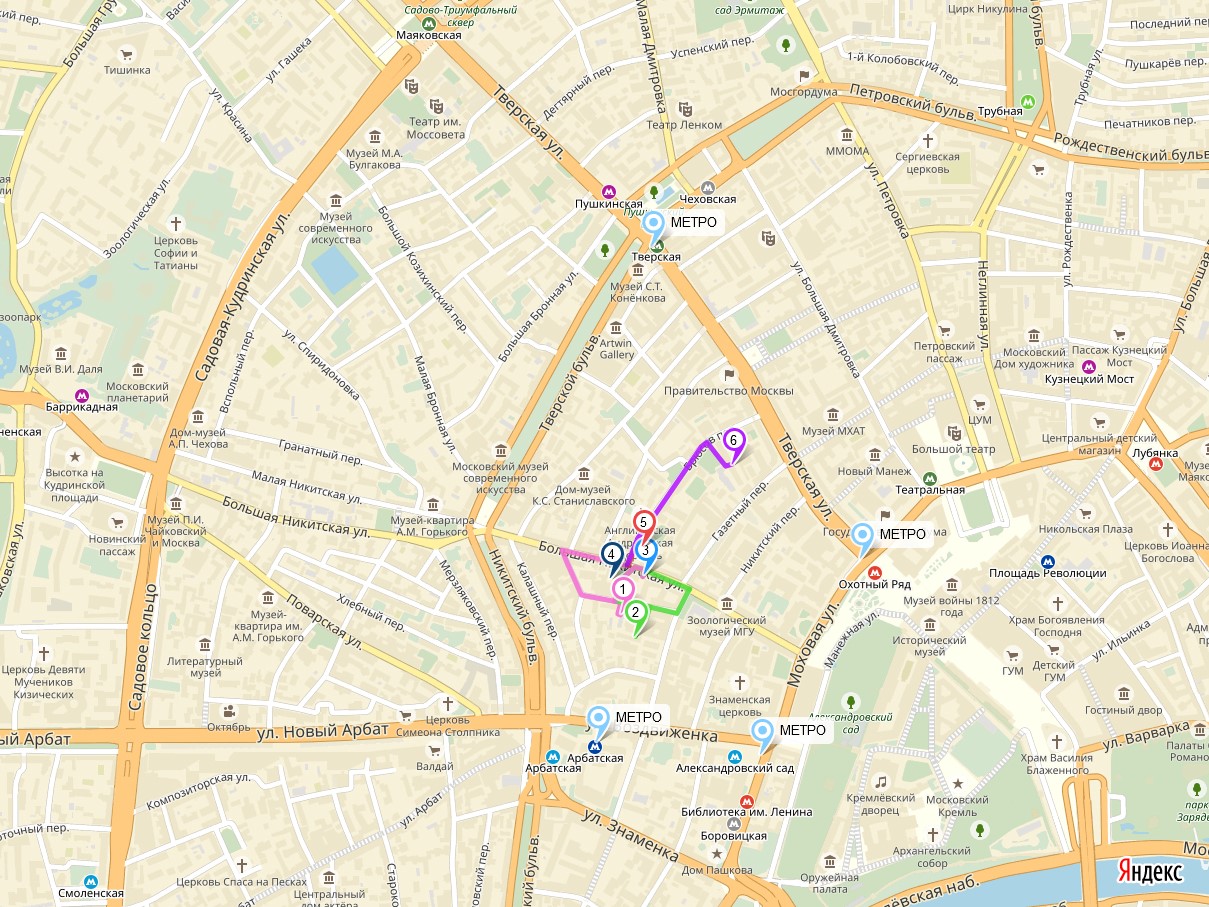 1 – Hotel «City-Comfort»  (3/1А, Sredniy Kislovskiy per.)
2 – Hotel Moscow Conservatory (3/2, Sredniy Kislovskiy per.)
3 – Conference hall and Rachmaninov Hall (13/6 Bolshaya Nikitskaya Street)
4 – Entrance  (Passage to the CEAMMC and to the Oval Hall of Rubinchtein's Museum)
5 – Brizol's Café (2/14-8, Bryusov per.)
6 – Moscow Composer's House (8/10-2, Bryusov per.)
DETAILED MAP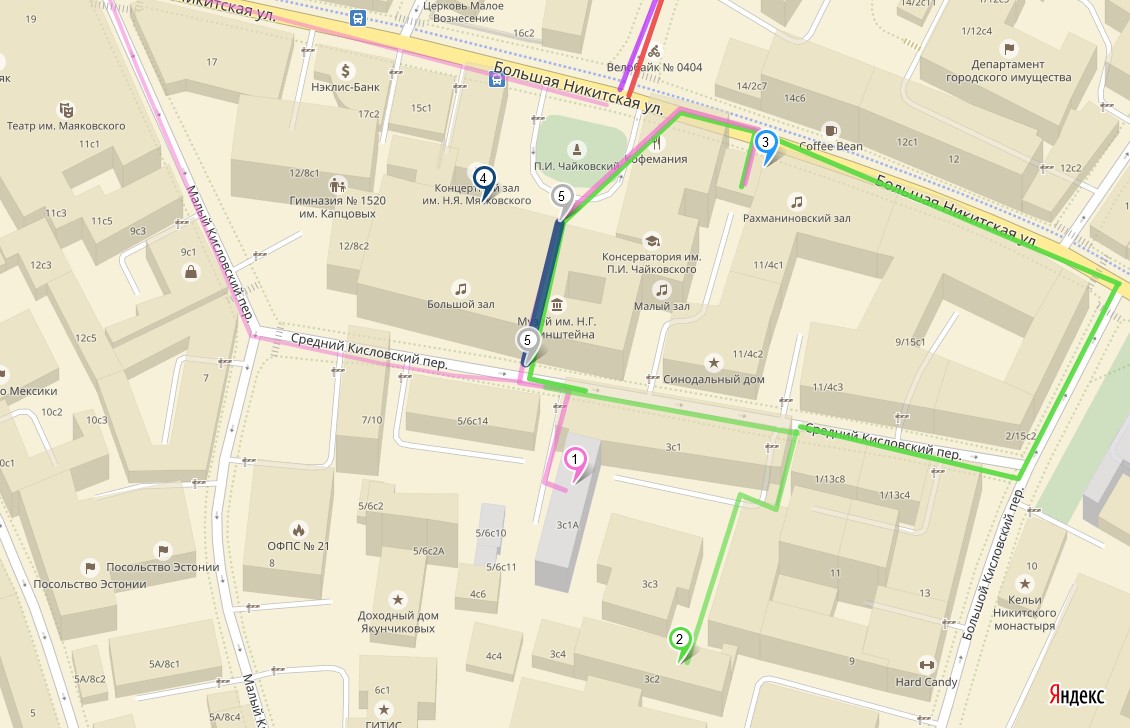 1 – Hotel «City Comfort» (3/1А, Sredniy Kislovskiy per.)
2 – Hotel of the Moscow Conservatory (3/2, Sredniy Kislovskiy per.)
3 – Conference hall and Rachmaninov Hall (13/6 Bolshaya Nikitskaya Street)
4 – Entrance (Passage to the CEAMMC and to the Oval Hall of Rubinchtein's Museum)
5 – The passage to the Ceammc and the Oval hall of Rubinstein's Museum)
The passage through the Ground floor of the Great Hall building is open from 10 to 18 hours